Together with PC, programmable logic controllers (PLC) are today widely used as multipurpose control devices. Aime Technology develops advanced software for PC and PLC to perform functions related to equipment automation, processes, data, communications control, etc. for all types of production lines.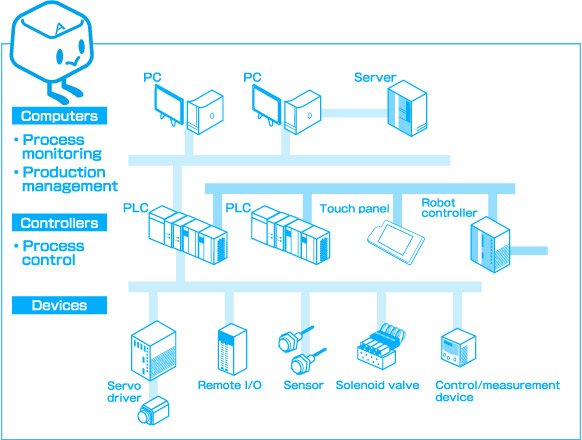 Control software (PLC)
Control of all types of production equipment and inspection equipment
Position and speed control for servomotors, pulse motors, etc.
Serial communication (RS232C, RS485, etc.) with external devices
System control via protocol communication between PLC
System control via communication with a PC
Computer software (PC)
Control of all types of production equipment and inspection equipment
Intelligent monitoring of production equipment
Control of measurement instruments
Protocol conversion between devices
Communication control (TCP/IP, SECS/GEM, etc.) between a host computer and various production equipment
Embedded system software
Development platforms
PLC software

♦ Languages: Ladder programming (Mitsubishi, Omron, Keyence, Toshiba, etc.)

PC software

♦ Languages: .NET (VB/VC#/VC++), VBA, VB6, GCC, and PICBASIC
♦ Platforms:Windows and Embedded system

Aime Technology's ability to quickly understand customer needs enables us to propose the best possible solutions.

Aime Technology can quickly adapt to changes at the production site.

Aime Technology promises the performance you need, when you need it and within the accepted budget.

Easy to understand and easy to use for anyone.